Connections Tree
Updates review on December 29, 2014
Just before the end of 2014 we would like to present an important update of Seldon.Basis. We have implemented the instrument for tracking the company's connections, a so-called «Connections Tree». It has been in development for quite a while and we are glad to finally introduce the feature that will increase the efficiency of your work.
What is Connections Tree?
Connections Tree visually shows the cooperation between companies and executives that are connected in any way.
The structure of a certain company (its branch offices and subsidiaries) and the activity of its founders and managers are presented as a tree of connected elements. Here you can see the information about phone numbers, addresses, authorized capital shares, etc.
Such graphic display of connections gives information necessary to assess a company. It also increases the efficiency of decision-making: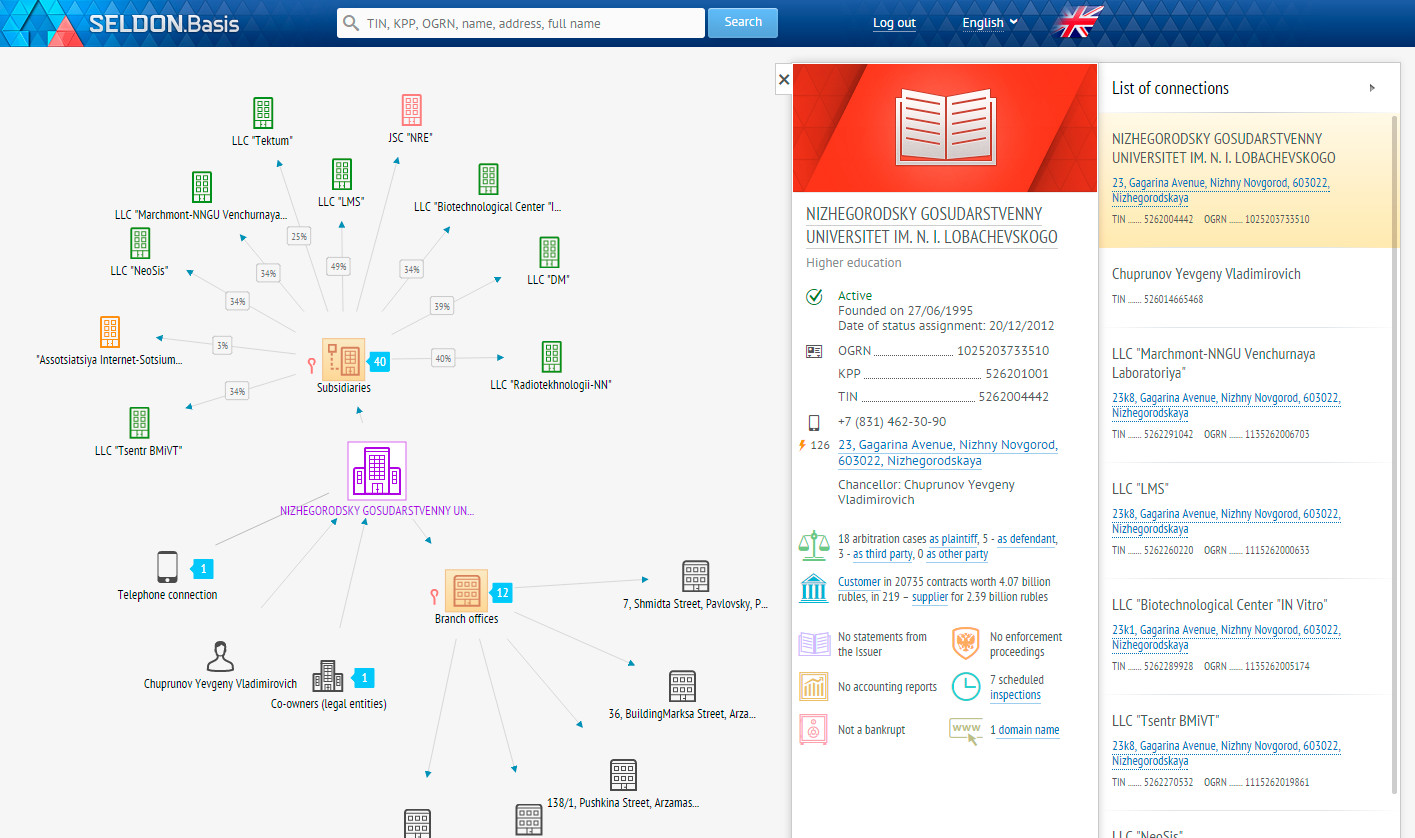 How to View the Connections Tree?
In the profile of a legal entity you have to unfold the «Company» menu and select «Connections Tree»:

It can also be opened in the «Summary Information» section by clicking the «Company's connections» section.
How Does it Work?
Open the tree of a certain company (e.g., Lobachevsky State University of Nizhny Novgorod) and you will see the pictograms of the company and its elements: CEO (Chuprunov Evgeny Vladimirovich), founders, branch offices (12), subsidiaries (40) and its phone number: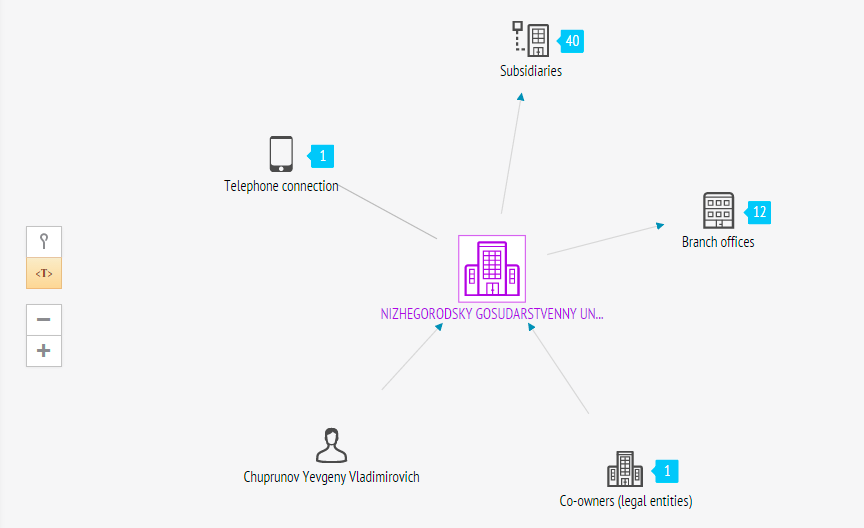 Clicking on any of the pictograms will unfold the list of connections – subsidiary companies and branch offices, founder's information, phone number. Clicking on a certain company will open a menu with company details on the right.
Clicking on a gear wheel pictogram (it appears when hovering over an item) will show the founders, managers, and phone numbers of relevant companies: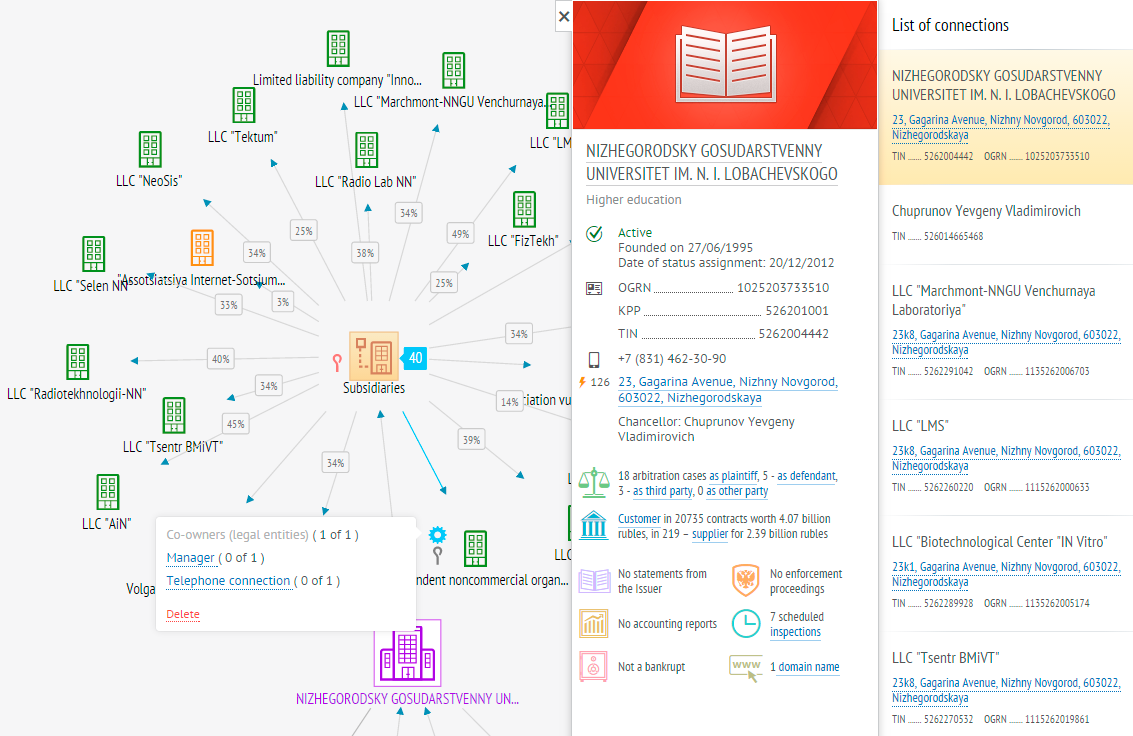 On the left are the control elements: zoom, fixation and captions display buttons.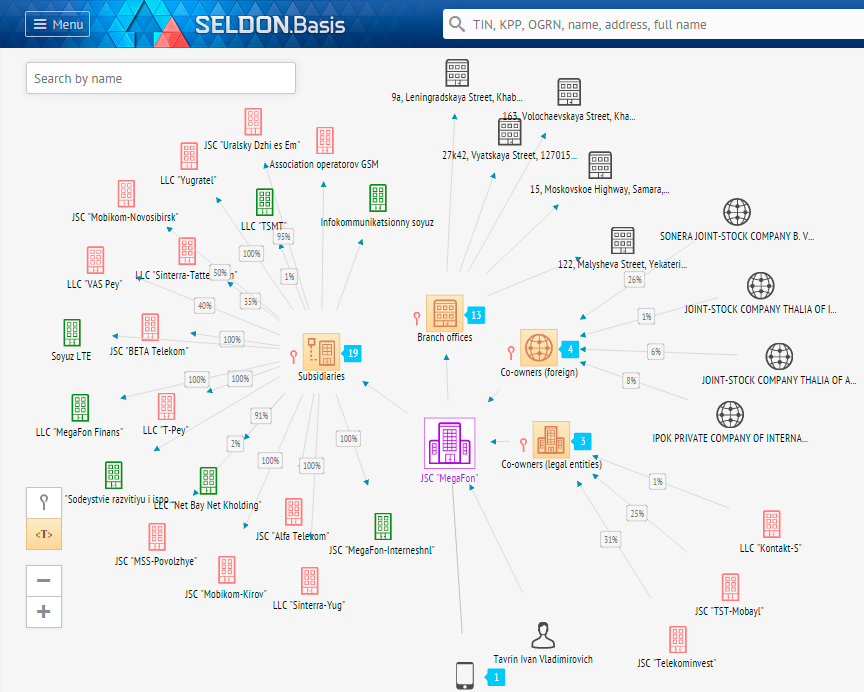 Index of Trustworthiness
Besides the Connections Tree, Seldon.Basis now has the rating of companies trustworthiness.
Trustworthiness of a business partner is determined according to the unique scoring model that considers 25 aspects of financial, economic and legal activity of a company, including the information about authorized capital, affiliated persons, involvement in state purchases, arbitration cases and publications of accounting reports.
This index is used for reference purposes and is altered with regard to new data. It is displayed on the summary page of a company profile.
Please note that this rating (on the scale from 0 to 100) is subjective and should not be used as the only criterion for commercial and management decisions: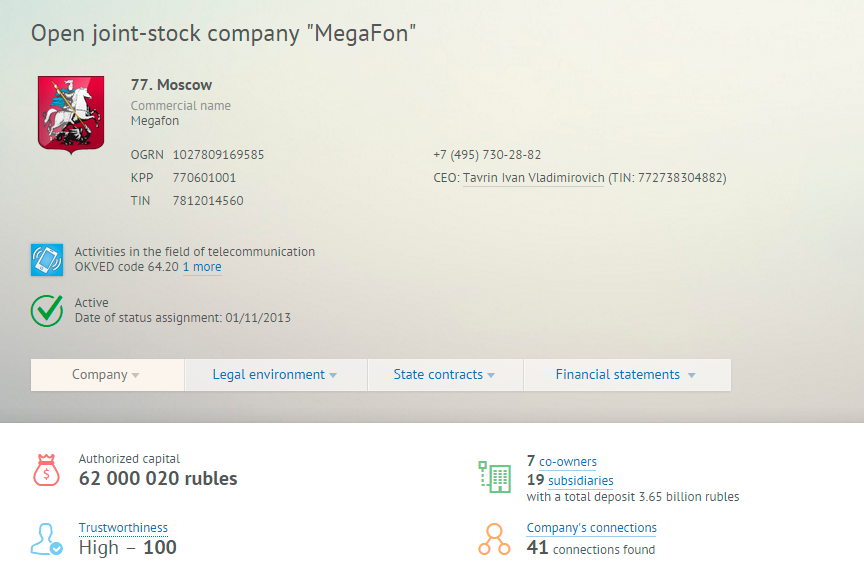 Have a productive year,
the Support Team